Middlesex County is bringing the future of innovation to New Jersey. With a vast and growing base of cutting-edge business and research facilities in biotech, pharmaceuticals, manufacturing and logistics, Middlesex County is today's incubator for tomorrow's innovations and market success.
The growth opportunities and competitive business environment in the County continue to attract the attention and investments of industry leaders like Dr. Stephen Tsu, who left Michigan State University to establish his genetic testing and disease prevention company, Genomic Prediction, in Middlesex County. Biopharmaceutical research services startup NJ Biopharmaceuticals has also selected Middlesex County as its base and headquarters.
By serving as a partner and resource for business opportunity, the County is providing an environment for leading research facilities to thrive in key areas of science and business like bio-tech, a field in which entrepreneurs and researchers in Middlesex County gain unique access to world-class R&D facilities and talent at leading technological institutes, research labs, and universities.
Biotech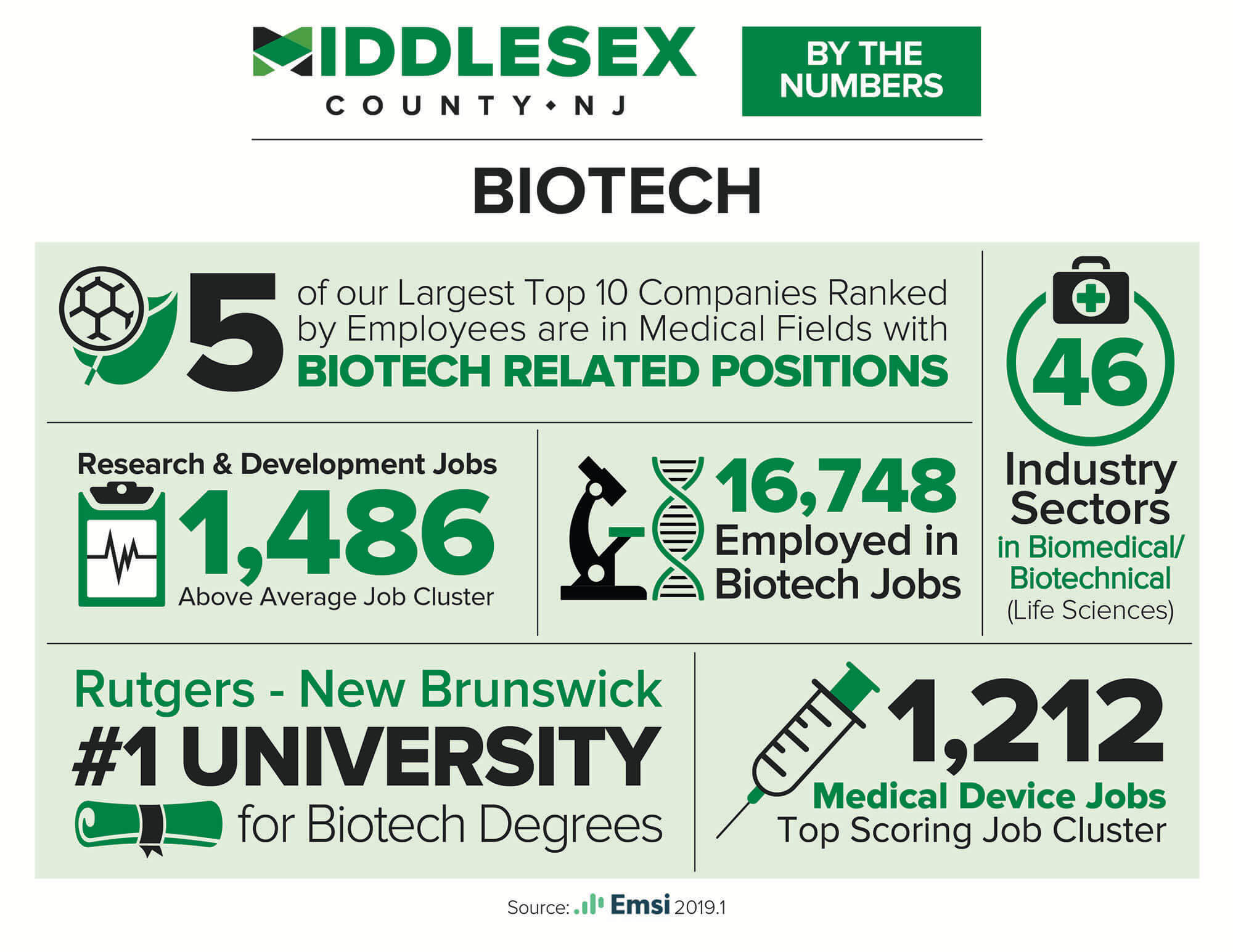 Technology Center of New Jersey
A cutting-edge R&D facility located near Princeton and Rutgers University, the Center is home to the CCIT and the BDC (see more below) and provides research labs and workspace for emerging tech startups.
Biotechnology Development Center (BDC)
Entrepreneurs who attain a high level of business growth and success at the CCIT earn a place at the BDC, where they receive go-to-market strategy development as well as guidance and advisory services for market success. Located on-site at the CCIT, the BDC is a critical late-stage partner to young biotech companies. It selects only the most dynamic startups and applies practices of transformative acceleration to emerging companies on their journey to becoming industry leaders.
Commercialization Center for Innovative Technology (CCIT)
Located in the heart of New Jersey's "Research Corridor," the CCIT is where science and business unite to develop new technology and innovations that make an impact – locally, nationally, and globally. As one of the premier biotech incubators in the nation and the region's center for innovation, the research labs and funding opportunities here are second to none. The CCIT's combination of expert staff and targeted funding has seen the successful launch of a number of leading biotech companies such as Amicus Therapeutics, Genewiz, Sophion, and Chromocell.
Center for Advanced Biotechnology and Medicine (CABM)
CABM's mission is to make fundamental discoveries and develop new technologies that can be translated to improve human health. CABM was established to be a hub for biomedical research at Rutgers University and the University of Medicine and Dentistry of New Jersey- Robert Wood Johnson Medical School. CABM is primarily focused on biomedical research in the areas of Infectious Disease, Cancer, and Neurodevelopment/Neurodegeneration. CABM continues to be singularly positioned as an internationally-recognized leader within the scientific and medical communities.
Location Options, Workforce Talent and Training
Middlesex County Business Portal
A comprehensive tool for local and out-of-state commercial enterprises that utilizes over 46 fields of site data to offer the ability to review commercial real estate options across the County. The tool allows users to select land parcels according to precise location, price, size, and other unique identifiers, such as proximity to public transportation or waterfront. This free tool also aids in site selection by offering pertinent information such as traffic counts, demographic and income profile reports, and more.
This free program provides the residents of Middlesex County with access to online courses that give training and certifications in a wide range of critical skill sets including IT, logistics, business management, computer programing, and much more. Once skills are updated, users can then access on-site job listings and find potential matches in minutes.
To learn more about the benefits of locating your business in Middlesex County, enter your email here.