Did you know that Middlesex County provides hundreds of industry-recognized certifications for workers of all ages who want to top up their skills or enter a new phase in their careers? As an entirely free service to Middlesex County residents, SkillUpTM offers online access to professional development when you want it, how you want it, and entirely free of cost.
The Middlesex County Board of County Commissioners knows that in today's economy, gaining new skills in your field can be as critical to growing your success as the career itself. That's why the County offers more than 4,500 courses in a large variety of fields for learners of any age who want to grow, get certified, or just give their careers a boost.
Middlesex County Success Stories
Breanna Denault,
Administrative Assistant at Middlesex County Workforce Development
How did Middlesex County's SkillUpTM change your life?
Well, I grew up in Middlesex County actually, and I went through the Community Work Experience Program (CWEP), which led me to this job at Workforce Development. Before that I was in a pretty tough spot, with three kids, between jobs. Taking SkillUpTM classes helped me improve my skills with things like an Excel training course, and then getting this job was a new start for me, it really came when I needed it. My life is very different now than it was even back in November.
What do you do here at Workforce Development?
We help residents of Middlesex County get job training, which helps them be more appealing for employers. All of these programs are designed to help employ residents of Middlesex County. We see about 25-30 people a week, and most of those people go on to get good jobs. We also help people find out how to get their GED or high school equivalent (HSE), if that's what they want.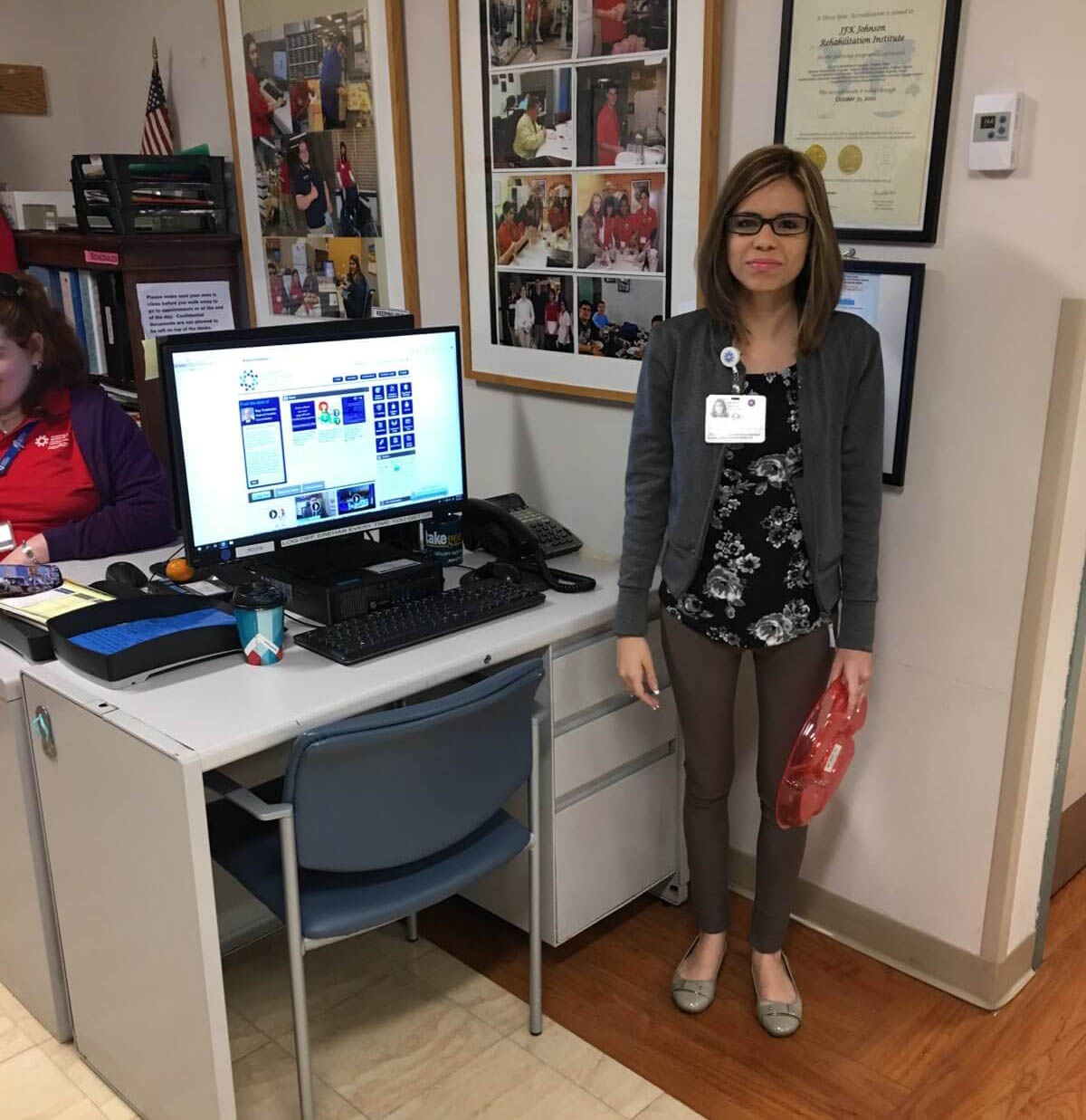 Arginice Arrocho,
Vocational Rehab Assistant at JFK Medical Center
Where does the Workforce Development Center come into your life?
I was a young, single mother, and I wasn't having luck finding employment. I went there with the intention of meeting with a coordinator to help me find work opportunities. I brought in all of my personal documents and did testing the same day. Instead of going to one of the training programs they ended up placing me in a job at Workforce Development. During my time in that role, I worked hands-on helping people that were unemployed and receiving government assistance. These days, I work with kids and adults who have mental or physical disabilities and train them with the intention of finding them employment in the future.
How did SkillUpTM change things for you?
Well, I knew I wanted to go into some kind of technical field, so I enrolled in SkillUpTM in the CompTIA A+ program that has to do with IT, repairing computers, software development, etc. I had worked with computers before and really enjoyed it, and the SkillUpTM lessons helped refresh everything that I had learned. After completing the SkillUpTM courses, I began a new job search in September of 2018, and by December I started my new job at the JFK Medical Center! SkillUpTM definitely prepared me for the role I'm in now, and my co-workers often come to me for help because of the skills I learned in the program. I would definitely recommend SkillUpTM. It has given me the opportunity to pursue the career that I always envisioned myself doing.